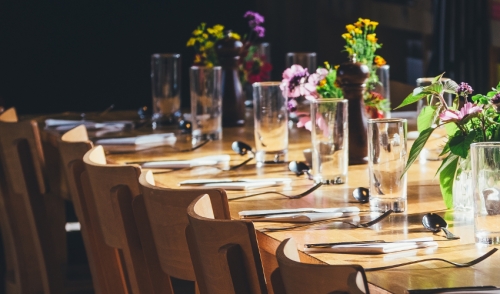 Tables and chairs are by far the most common rental item for rental providers everywhere. Whether you like it or not, people like to sit down. With warmer weather around the corner it means more events and parties, and where there's an event or party there will definitely be tables and chairs. Take my advice and do not sleep on renting tables and chairs for any event you or your friends may have coming up.
Birthday parties, graduations, speaking engagements, and BBQs all require chairs and tables. Before renting any items, develop a plan first and foremost. This means take the time to consider the style, color, size, and number of chairs you need. It may sound farfetched, but I can assure you the best part of renting are the options and customizations you can include in your order. Consider renting chairs with cushions over those without cushions or chairs with armrests over those without armrests. While these examples only highlight two distinctions, there are even more you can apply when renting the table and chairs from your local dealer. Another great example of how customizable renting is would be renting chairs for a formal event such as a vow renewal party or dinner party. Instead of renting fold up chairs, you can opt for nicer chairs with cushions and a gold trim or black bar stools for higher table settings. Renting chairs doesn't have to be limited to standard 4 leg options either. Depending on the event, you can rent other furniture options such as couches and love seats to create a unique and open atmosphere for your guests. Don't hesitate to get the tables to match. Whether the table is round, square, long, short, high, or low your rental dealer has an option for you. Bar tables and bar stools are also available to rent if there's going to a little bit of extra fun taking place.
Renting tables and chairs for your next event opens you up to on demand possibilities. Renting also assists with extras such as chair or table covers and other attachments that may be required for your event. To go one step further, renting these items will make preparation for your event even easier. Rental companies have insurance so you can feel safe about any accidents or damages. They can pack and ship items directly to you, and some may even help you with unloading and setting everything up. I'm a big fan of renting tables and chairs as it allows for trying new things while throwing great events. If you are hosting a party or helping someone plan one, I recommend contacting your local rental dealer and renting your tables and chairs today before its too late.