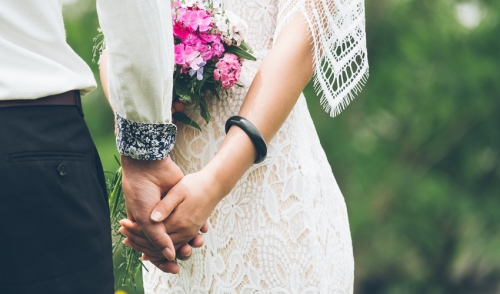 Winter weddings are growing in popularity. More and more brides are starting to realize that having a wedding during the colder months can be just as much of a dream come true than any wedding during the spring or late summer. When you picture the lights, dazzling center pieces, and a flickering fireplace, the setting becomes much more intimate and perfect for a once in a lifetime romantic occasion. Planning for that winter wonderland wedding requires careful planning and consideration towards the unexpected.
First things first, book a venue. One of the best parts about winter weddings is that you will no doubt save money on most vendors. Winter isn't a peak time to get married for most vendors so many operators will have discounts or specials around the holidays. Just be mindful of the type of venue you are looking to book and the location as some venues maintain a busy schedule through the holidays due to corporate events. If you are aiming to host part of the wedding outdoors, that's not a problem. There are plenty of options to host a wedding outside even in the winter that can keep guest cozy and comfortable. While planning, I recommend grabbing wedding insurance just in case the weather doesn't work out. It's easy for your guests to drive through the rain or cold conditions, but if a blizzard hits then everyone could be out of luck including you. If you have watched the news at all this year, then you are aware inclement weather can strike at any time. Be prepared by having wedding insurance to protect yourself against losing any deposit money due to any weather-related cancellation. This will keep money in your pocket so that you can book a new vendor at your new date without having to pay extra. If possible try to do whole event in one venue to cut down travel time. Next, take advantage of what the season has to offer. There's no such thing as a winter wonderland wedding without actually embracing the season. Plan to use a theme that is centered around winter. Everything from table settings, center pieces, and catering should give your guests the feeling that they are living your winter dream. Set the tone with your invitations. Use stationary that evokes a winter inspired celebration and is embellished with crystals, faux snowflakes, and even flannel. One important tip about invitations – the earlier they go out the better. Giving your guest plenty of time to prepare and plan is the key to making sure they attend during the busy holiday season. When putting together your menu, consider using heartwarming dishes and cocktails that pack a little spice. Don't forget to include silver and/or vintage dinnerware to give your wedding a rustic touch and make guests feel like they are sitting at a family dinner. Your wedding design should also include a variety of lights. There should be plenty of candles, lanterns, and pillars that add a striking glow to your décor.
No matter how you plan your winter wonderland wedding, always remember that weddings are a time for surrounding yourself around the ones you love most. You don't have to have go over board to make your dream a reality. Focus on making your day spectacular and memorable by making it possible for your friends and family to be there to celebrate with you. Regardless of the weather if you plan ahead and get creative; your winter wedding is sure to dazzle everyone.