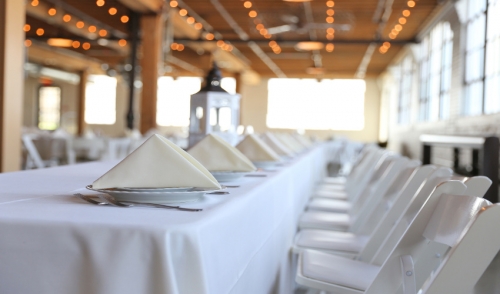 Putting together any event requires a lot of decision-making. One of the hardest decisions to make as a planner is selecting the right venue. When organizing an event, the venue you choose to rent out will have largest impact on the event itself. It determines the level of overall interest, excitement, attendance, and enjoyment. If it's too small, people will get hot and become uncomfortable. If it's too large, people will feel as if it was empty and no one attended. Whether it has a rooftop, multiple bars, chairs, enough bathrooms, parking, or even a no alcohol policy are all questions you must ask yourself in consideration of your guests. It doesn't have to be as hard as it sounds; just follow this article for tips on renting a venue.
The first and most important tip is preparation. Before you can start making calls to venues and caterers, you must first understand your audience, expected number of attendees, current budget, and type of event. All of these factors will have a say in the venue you decide to rent. If you have little to no budget, then you're less likely to rent any venue and just host something in your home or office. If this is a black tie formal event, then you're likely to weigh venues that offer a higher level of décor and ambiance. Above all else, keep your audience in mind. As the organizer, you should always have a good idea of who will be in attendance. Sometimes special requirements are needed to accommodate certain guests for a variety of purposes and those needs should be met within reason. The second tip is booking in advance. Booking your event at least six months in advance will ensure that you have the date you want set in stone. While six months may seem like a long time, depending on the occasion it may be longer. Renting a venue for a wedding can take up to a year sometimes if it's the right one. Giving yourself at least six months also gives you a timeline of each objective you would need to hit to bring the event to fruition. When going through each potential venue make sure to ask plenty of questions such as the venues capacity, special restrictions, and if its handicap accessible. Don't just take the word of a rep over the phone. Visit each venue and examine it closely. Image your event and your attendees within that space and ask yourself, 'Does this work?' Does it work in terms of the caterer, does it work for the type of party, do the acoustics work for your entertainment, and does it work for your budget? Many venues will offer a number of select services. Don't hesitate to inquire about what services are available and weigh your options. For example, some venues offer packages that include food, tables, chairs, and drinks bundled into a specific price point per guest attending. Choose whatever package or options best meet your needs and is the most affordable. Venues will typically charge a 25% deposit fee up front to guarantee your spot. Before signing over the dotted line, read over your contract thoroughly to avoid any surprises such as outrageous cleaning fees or clauses that identify punishable offenses. It's your duty to make sure that the contract states all the services you will be paying for, a total amount, number payments that must be made, and dates of payments as well as the amount you gave as a deposit.
If you have gotten to the end of this article, then you now understand how crucial renting a venue can be. Do your homework; and ask the right questions of not only the venue, but of yourself and your attendees. If you can do that, then you will rent the perfect venue for your event and it will be a hit.